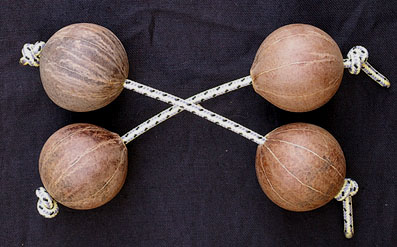 The best quality Asalato assembled and tuned at our workshop. 1 pair of ASALATO SELECT is made of 4 matched fine shells and fine codes, white (100% of cotton) or colored (synthetic fiber). Adjusted in good balance for comfort playing and excellent sound. Cracks on the surface of balls are filled up by glue and smoothed to improve the durability. (Please allow very small cracks.)

ASALATO SELECT comes in a pair (for both hands). Please specify the size and the color of code by item No. in the following samples, such as AS-L-A or AS-L-B.

Asalato is made of natural material by handwork, so there are individual differences originally. Such a case is possible to occur, the nuts break after long use or when they fall on hard ground. Please understand we cannot guarantee that the nuts will never break.

We make ASALATO SELECT on your order, so please allow a few days before dispatch.




Japanese